REAL WOMANHOOD: The Business & Calling of Being A Woman
A TRANSFORMATION EXPERIENCE based on the Textbook:
SPIRITUAL IDENTITY – Worldview Wisdom for Women by Dr. Merle Ray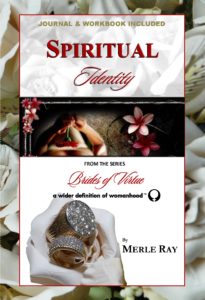 What you're holding right now is the key to some woman's destiny. It may be your own or that of another. But handle her well "for she is a God's god; she is a Master's Wife. She is a Married Woman." -Merle Ray (Genesis 20:3 my paraphrase) In a culture where everything is hot or it's not, this one-hour a day coaching book makes pursuing God an act of foreplay. Experience why God is and will always be ultimate spiritual masculinity. A thought-provoking trainer, mentor, business, and life coach, Merle Ray brings women of all ages – black and white, rich and poor, single and married, – to their knees. Spiritual Identity, the first in her Brides of Virtue Series, shows women how to bear everything naked before God in order to discover truth. Revealing many of her dramatic stories in search of truth, Ray provides women everywhere tools for exiting the dramas & traumas of culture-driven womanhood. "God wants you to know," says Ray, "There's too much devastation & desperation in waiting for your mind, body, & soul to exhale. It's time to get yours!" But how does one do that when there's nothing sexy about God, or is there? This book isn't written to make you go to church. Churches are already over 60% occupied by females perceived by many to be bored, indifferent, with undesirable attitudes, or unfulfilled. Let's face it; that's just not sexy.
God's woman, like God's true church is exciting, approachable, desirable, and fulfilled. This book isn't written to make women stay away from that; it's written that all women might be that––not a building made with hands but a powerhouse of a woman made by God.
Give yourself an-hour with God in this one-hour a day coaching book and watch what happens!
WE HELP YOU MAKE IT HAPPEN WITH YOUR OWN TRANSFORMATION EXPERIENCE!
Seek God. Love His Word. Get Real.
Buy this transformation experience course today!
1) The Online Book
All Lessons in the Book and any new lessons that get added. Complete your journey daily, weekly, or monthly to elevate your God-given brilliance by building your faith!
2) Form-fillable Downloads
Save the files directly to your device or favorite location on your computer. Type right into your online book. These downloads are yours forever!
3) Access to Private Online Community Forum
Post your thoughts, answers, or testimonies to share with others whenever you like!
4) Free Paperback version
BONUS GIFT! Share with a friend or keep it to journal your private notes!
***This is an online service / electronic product download. Therefore, all purchases are non-refundable.***
Contact me if you are interested in working live with me as your supportive co-partner during the book (coaching fee required).